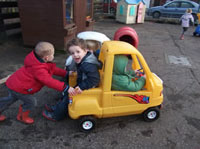 Hethersett Woodside Nursery has 52 places, 26 in the morning and 26 in the afternoon. The Nursery is the only designated state funded nursery provision serving Hethersett. Children are able to start Nursery in the September of the academic year in which they are four. The County Admissions Policy is adhered to, a copy of which is available in the school office.
It is very important that the children settle in happily, therefore there is a phased admission of small groups of children for the first few sessions so that the children are helped to feel secure, confident and happy in their new environment. We encourage parents to stay until they feel happy that their children are settled.
Nursery Session Times
The Morning Session in the Nursery Begins at 8.30am and ends at 11.30am
(Provision is flexible and allows for children to arrive between 8.30 – 8.45am)
The Afternoon Session in the Nursery Begins at 12.00 and ends at 3.00pm
Click on the cover below to download or view our prospectus.