Our remote learning offer is supported by two online learning platforms: Tapestry (EYFS) and Google Classroom (Key Stage One and Key Stage Two). The vast majority of teaching, activities and resources are published through these platforms, with lessons and new content available daily.
We know the huge challenge of managing learning at home and we have done our best to tailor our offer to parents as much as possible. We meet regularly to discuss the responses from our parent survey and we will continue to adapt our approach to accommodate the changing picture of the pandemic and individual need but here is an outline of what our offer entails. 
Staff
Staff across the school are now working in teams to manage the content made available to children. Therefore, you might see comments and posts on the platforms from staff who do not usually work in a child's class. However, these teams largely comprise of teachers and teaching assistants, from their normal year group. 
Content
In Nursery, a challenge planner of activities is compiled by the team which covers all areas of early years development. This is published weekly on Tapestry, along with pre-recorded material.
In addition to this, we will use regular class meetings, via Google Meet, and phone calls to keep connected with our youngest children.
Similarly, in Reception a wealth of early years learning is posted daily on Tapestry. There is always a Phonics and Maths activity, along with one other learning ideas. Phonics lessons are pre-recorded by the class teachers. Alongside this, the team are posting supplementary activities to inspire little learners.
Regular video and phone calls keep our Reception children and teachers connected.  
In Key Stage One and Two, teachers plan activities so that a typical day of learning will focus on: 
One Maths
One English
One other Core or Foundation Subject
The Google Classroom platform is used by teachers and support assistants to set assignments; leave feedback and meet virtually. 
In all year groups we are keeping our curriculum running as best we can and, as far as is practically possible, whether your child is in school at the moment or at home, the learning diet is the same.
Teaching
We currently have seven smaller classes running in school, for vulnerable children and critical worker families. Because we have to staff these groups, we cannot facilitate a full day of teacher-led live lessons.
Generally, teachers are able to offer a live session each day where they will meet their class. This might be instructional input or it might be a catch up to keep connected as a class. In response to many parents, who have multiple children and limited devices, teachers stick to an hourly window to run these lessons or meetings:
| | | | | |
| --- | --- | --- | --- | --- |
| 09:00 | 10:00 | 11:00 | 13:00 | 14:00 |
| Year Two | Year One | Year Four | Year Three* | Reception |
* Year Three run an additional class call every Friday at 10:30. 
Additional live sessions outside of these windows may be set up but we will make it clear that these can be attended if you can make it. 
Teachers are also utilising recorded content, either pre-prepared themselves or from high-quality sources, such as White Rose Maths.
Therefore, a typical day of home learning is likely to contain a mixture of different delivery methods. With all these, we generally have staff working in the background to offer advice and feedback.  
We have tried to keep our offer flexible so that families can set up a day of learning, which suits your family. Otherwise, teachers have begun to develop routines, which will give a certain amount of structure to a working week, if this is desired.   
Children's class teachers will communicate more detail on their working practices via the learning platforms. 
Technical Help
All parents have been contacted with account details for both platforms. If you are having trouble logging in, please contact the school office and make your query FAO Mr Cole, who is our Digital Learning Coordinator. Alternatively, as EYFS Lead, Mrs Ingham may be better able to answer any queries with regards to Tapestry. 
This Google Classroom instructional video might be helpful viewing, if you are not familiar with the platform. 
The use of Tapestry in EYFS is well-embedded now but if you are new to the platform, please refer to the video below. 
Tapestry has also produced lots of other user guides on all aspects of the platform. This is available online. Use your browser to search for Tapestry Guide for Parents. You will be directed to numerous instructional videos such as this guide to Adding an Observation.  
Technology for Home
The issue of getting families access to the technology they need is one we are working on. Several devices have been issued to Hethersett Woodside and we are ready to begin loaning these out to families. Devices are limited and we will need to consider distribution, based on need. Therefore, we might use a selection criteria, such as whether your family is eligible for free school meals.
Staff already have families in mind, who could use some support but please use our survey to let us know if you are struggling to manage home learning because of insufficient technology. There are a couple of questions in the survey which gather information about access difficulties. 
Please find a link to the survey below.
Alternatively, if you are struggling, see below for information about a scheme from Norfolk County Council who are donating lots of digital equipment to certain families.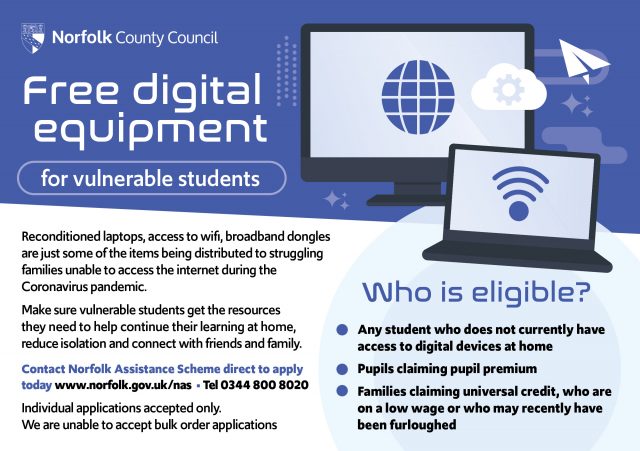 Curriculum Letters
You might also want to refer to your half-termly curriculum letters on our class pages. These have details of what your children are learning and contain links to many other useful resources. 
Extended Learning
Teachers should be keeping you busy enough with the learning provided on the platforms! If you are looking for other home learning ideas, have a look at these resources relating to the different areas of the national curriculum.    
Maths                    English                    Science
Keep in Touch
Class teachers are willing to help if there is anything we can support with or do differently. A phone call to the school may be the best way to get in touch. Leave a message with the school office and teachers will call back as soon as they can. 
Alternatively, please feel welcome to email teachers directly. Please note, many staff still have full-time teaching commitments and they may not be able to respond immediately and these communications will take place between 09:00 and 17:00 on their working days 
If you do not have their email address, please send your query via the school office.  
We are always keen to know what we are doing well and ways that we can keep improving our home learning offer. The survey below is open for parents to let us know about any challenges you may be having at home, including issues with technology and a good way to give feedback on our service. We would like to hear from you! 
Archived Material
During the partial closure of the school, from March 20th 2020, teachers devised a series of home learning activities in the form of weekly Challenge Planners. 
We have left the links here to our offer, last year. The curriculum may have changed slightly since but many of the ideas and resources may be a useful reference for you. Please note, the links to certain materials may have expired.